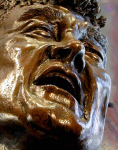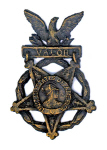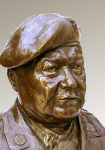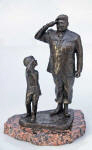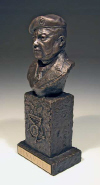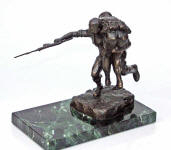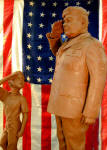 Master Sergeant Roy P. Benavidez Memorial
A project of Valor Remembered Foundation with
Mark Austin Byrd, Sculptors
A major project of our studio in recent years has been aiding Valor Renembered Foundation in the development of a nationally significant memorial honoring the late Roy Benavidez to be located in a highly visible location in San Antonio, Texas. We have created at no cost to Valor Remembered and the memorial's supporters, a group of eight different sculptures, The Benavidez Collection. (click to view)
Roy Benavidez received the Medal of Honor, the America's highest award for valor in combat. Visit this page to read his award citation. The following statement by H. Ross Perot sums up why he was awarded the MOH.
"The life story of Vietnam War hero Roy Benavidez is that of a man of pride and dignity who conquered enormous challenges. Hispanic, part-Yaqui Indian, and an orphan, Benavidez fought his way out of poverty and bigotry to serve with distinction with the U.S. Army's elite - the Airborne and the Special Forces. Seriously wounded in Vietnam, he was told he would never walk again. Benavidez not only conquered his disability but also demanded to return to combat."

"It was on his second Vietnam tour that Roy Benavidez became a Special Forces legend. When twelve of his comrades on a secret CIA mission in Cambodia were surrounded by hundreds of North Vietnamese regulars, Benavidez volunteered without hesitation to rescue them. Despite severe injuries suffered in furious hand-to-hand combat, Benavidez personally saved the lives of eight men. He was awarded the Medal of Honor, ensuring his everlasting place as one of the great heroes of the war"........H. Ross Perot, from the book Medal of Honor by Roy P. Benavidez.
After receiving the MOH Roy, became an inspirational speaker, frequently addressing people from all walks of life, from classrooms to boardrooms. He delivered his simple message - "duty, honor, country" and became a role model for the youth of America. After his passing in 1998 he was awarded the Texas Legislative Medal of Honor, an award that has only been given to two other men. Texas thus recognized him for his acts of valor and for the way he devoted the rest of his life to the youth of Texas and the United States. It is for all of this that we seek to honor him.