USMC VIETNAM HELICOPTER FLIGHT CREW MEMORIAL.
A proposed memorial commemorating the sacrifices and service of all who served in USMC helicopter aviation in Vietnam, by Mark Austin Byrd with Jenelle Armstrong Byrd, Sculptors.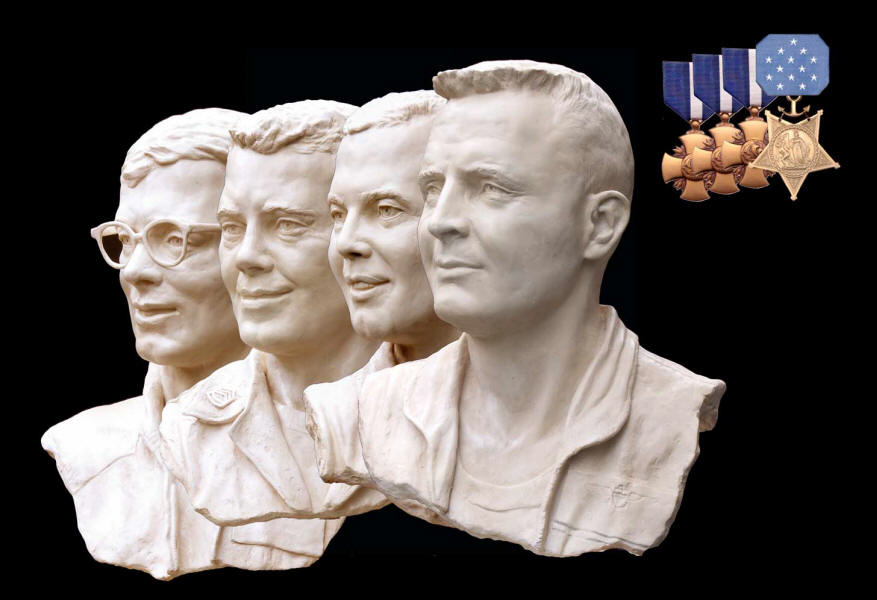 STUDIES FOR MEMORIAL. The picture above is a collage of four pictures of life size cast busts of each of the four United States Marines who are thought to be the highest decorated flight crew for a single combat mission in the history of US Naval Aviation - one Medal of Honor and three Navy Crosses awarded to a crew on a single mission. They are left to right: LCpl John G. "Gordo" Phelps, Gunnery Sgt. Leroy N. Poulson, Capt. Rupert N. "Skeets" Fairfield, and Capt. Stephen W. Pless. Pless earned the Medal of Honor and each of his crew received the Navy Cross for their daring rescue of three US Army soldiers trapped by enemy forces during the Vietnam War. The sculptures were created as studies for a proposed memorial honoring all Marine helicopter flight crews who served in the Vietnam War.