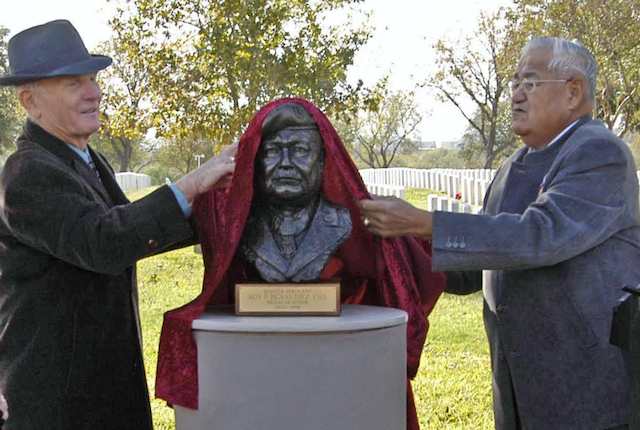 "Master Sergeant Roy P. Benavidez, USA, Medal of Honor"

Roy Benavidez Elementary School, San Antonio, TX

Sculptor: Jenelle Armstrong Byrd with Mark Austin Byrd

Photo: Ft. Sam Houston National Cemetery, Dec 6, 2006, Sgt. Major Benito Guerrero, USA(ret) and Lt. Col. Glen Hoffman, USA(ret) unveil the Benavidez bust presented by Valor Remembered Foundation as a gift to the Roy Benavidez Elementary School of San Antonio.

Col. Hoffman commanded the 249th Assualt Helicopter Company which flew the rescue mission on which Benavidez earned his MOH. Hoffman's flight crews suffered grevious losses on the mission. SGM Guerrero was a long time personal friend of Benavidez.